Campground
From now on, you can also buy the campsite separately by clicking the "Buy a ticket" button on our website.
The price includes accommodation for 1 person from Thursday to Monday.
Opening hours:
The campsite is open from 6.00 p.m. on Thursday, until 12.00 p.m. on Monday (until Friday until 9.00 a.m. – without fully operational infrastructure).
If you have a question, please visit the "FAQ" tab, where you will find the answers to most of your questions.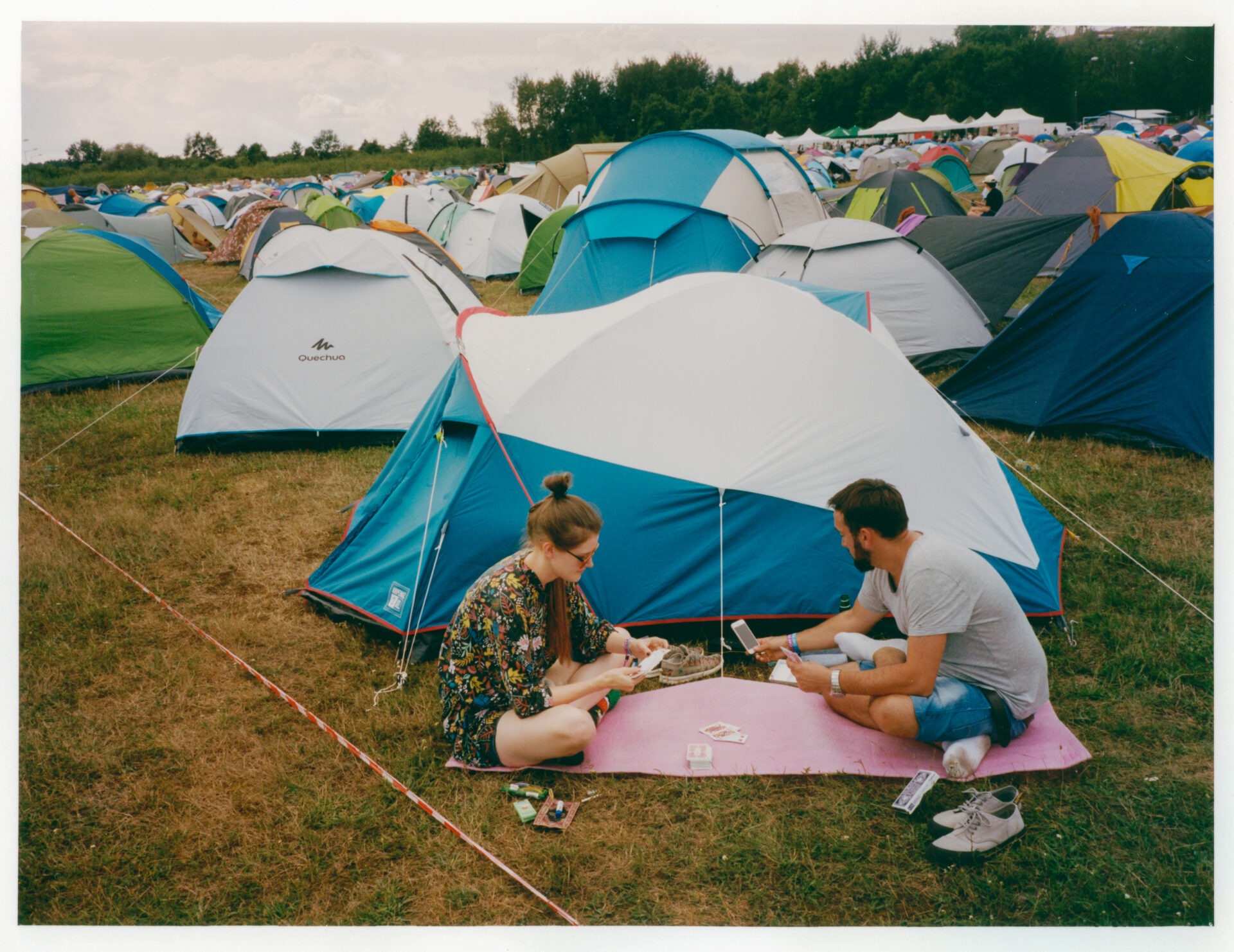 Literary Café
Conversations about everything from hip hop to women in music, with artists, and interviews with music journalists: All that and more at the Literary Café, at this year's OFF Festival Katowice Important issues, current events, live music, and interesting guests: The theme of Literary Café at the 2023 OFF Festival Katowice (August 4–6) is Describing Music.
We're going to be talking about music with a range of guests, including artists and authors of books about hip hop, the alternative music scene, and metal. We're also devoting an entire day to the late Polish rock legend, Kora, and her literary and musical fascinations. The OFF Festival is more than just an annual event that showcases a wealth of genres from every corner of the globe, often performed for the first time in front of Polish audiences.
It's also a place where we do more than just listen to music: we discover it and spend long hours talking about it in the beautiful natural setting of Three Pond Valley.
As a star-studded lineup of artists — Pusha T, Slowdive, King Krule, and more — performs on OFF Festival stages, the Literary Café returns this year with a program that features conversation on the issues that matter in music today. "We'll be talking about artist bios, poetry in music, and music journalism, including reportage. In a word: we're putting notes and letters together, and we'll see what happens!" says Sylwia Chutnik. The author, columnist, and activist has been a long-time curator of the Literary Café, where festivalgoers gather to enjoy books and discussions. She's hosted plenty of famous authors over the years, but this edition is truly special. In keeping with this year's theme, Describing Music, we're going to try to say as much about music as we can over the course of three days, talking to artists, writers, and journalists.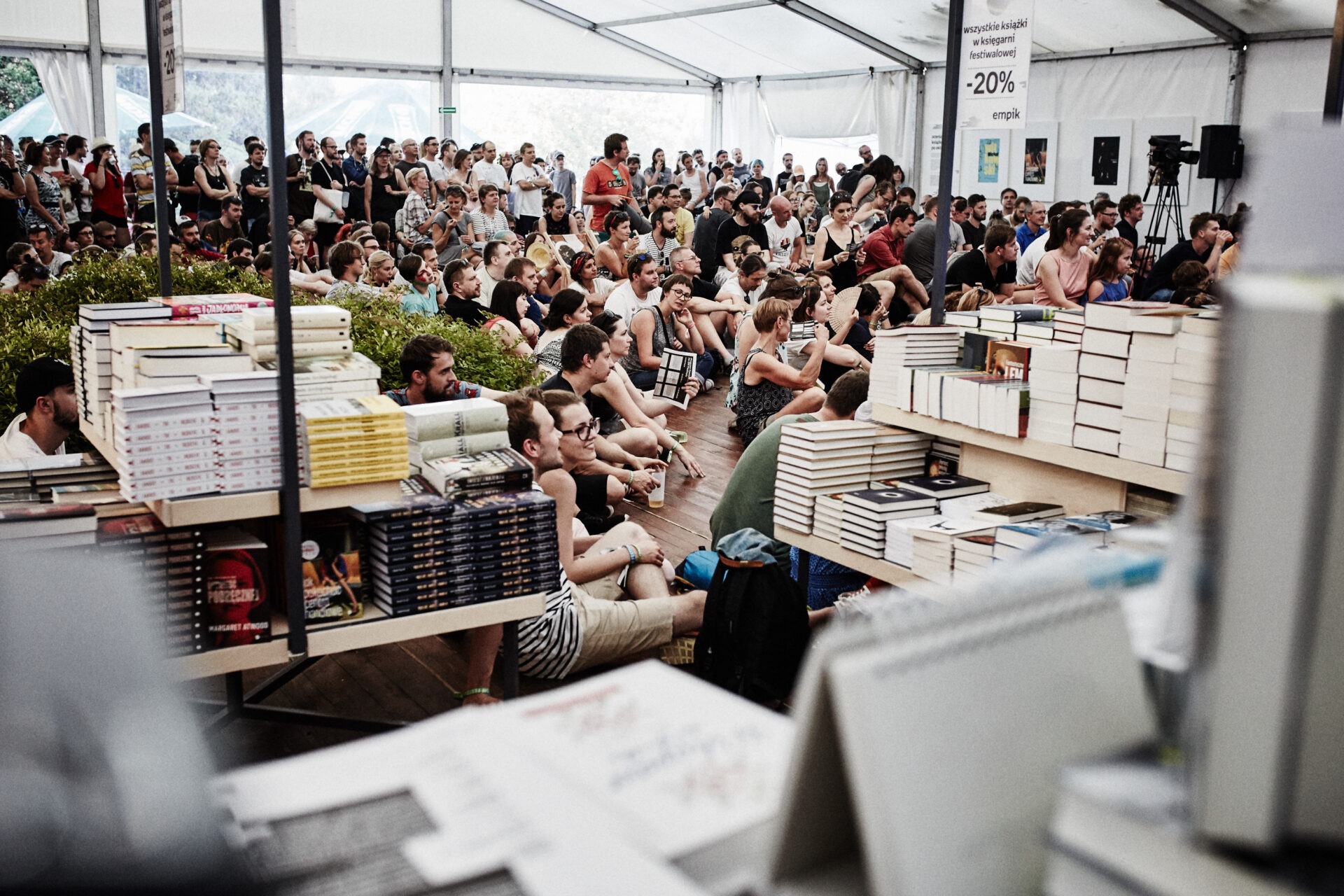 We have nine panel discussions planned for August 4–6, each hosted by Karolina Sulej.
Saturday, August 5, will be devoted entirely to the late singer Kora. We'll talk to two of her
biographers: Beata Biały (Słońce bez końca. Biografia Kory) and Katarzyna Kubisiowska
(Się żyje. Kora. Biografia). Kamil Sipowicz, Kora's husband, will join us to talk about her
musical and literary fascinations. Finally, Maria Moonset Matuszewska and Tomasz
Szczepanek will take us on a fascinating tour of astrology, one of Kora's many interests.
The highlight of the day will be a special concert by Michał Pepol, founder of the Royal
String Quartet, who will perform material from his album Kora. Nieskończoność. The LP
contains previously unreleased recordings found on 24-track tape in Kora's private archive, reworked into a captivating audio experience. The Literary Café will also host an exhibition
of photographs by Jacek Poremba, whose work explores the many facets of the late artist.
On Friday, August 4, join us for a series of talks with authors of interesting books about
music. Filip Kalinowski (Niechciani, nielubiani) will be here to talk about the fascinating
history of Warsaw's hip hop scene; Tomasz Lada (Zagrani na śmierć. Mroczne ścieżki
polskiego undergroundu) will tell us about the tragic deaths of Polish underground musicians,
while Łukasz Orbitowski and Jarek Szubrycht (Skóra i ćwieki na wieki) will tell you
everything you didn't know about the 80s and 90s metal scene.
There's plenty of interesting events in Sunday's program, as well. Journalists Agnieszka
Szydłowska and Przemek Gulda will attempt to answer the question: How should we write
and talk about music? Musicians Hania Rani and Misia Furtak join journalist Angelika
Kucińska for a conversation about female performers. Last, but not least, Renata Lis, author
of the book Moja ukochana i ja will talk about puberty and discovering your non-
heteronormativity in Poland, against a backdrop of pop music.
All guests are invited to stop by our Nexto.pl bookstore, the sponsor of this year's Literary
Café, which carries books by our featured artists and — as always — delicious coffee. Our
conversations about literature and music are also made possible by our media partner, ASZ.
Literary Café at the OFF Festival 2023: Describing Music
Friday, August 4
5:30–6:20 Describing Hip Hop
Filip Kalinowski, author of the book Niechciani, nielubiani, talks about the Warsaw hip hop
scene.
Partner: Czarne Publishing House
7:00-7:50 Played to Death
Tomasz Lada, author of a book on the tragic deaths of Polish underground musicians.
Partner: Czarne Publishing House
8:00–8:50 Studs and Leather Forever
Jarek Szubrycht, author of a book on the metal scene in the 80s and 90s
Łukasz Orbitowski, writer and metalhead Partner: Czarne Publishing House
Saturday, August 5
5:00–5:50 And the Planets Go Mad
Maria Moonset Matuszewska, astrological psychologist and author of a book on astrology
Tomasz Szczepanek, philosopher, academic, host of the YouTube channel Spokojnie to tylko
astrologia
6:00–6:50 The Madness of Celestial Bodies
Kamil Sipowicz and Kora's literary and musical fascinations
7:00–7:50 Kora Ola Ola
Beata Biały, author of the book Słońce bez końca. Biografia Kory
Katarzyna Kubisiowska, author of the book Się żyje. Kora. Biografia
8:30–21:10 Special Performance by Michał Pepola
Recital featuring material from the album Kora. Nieskończoność
Sunday, August 6
5:00–5:50 What Does Music Do to Words?
Ryszard Koziołek, President of the University of Silesia, literary scholar
Tadeusz Sławek, Professor, University of Silesia, literary scholar and translator
Held as part of the European City of Science Katowice 2024 program
6:00–6:50 Queer, Please!
Renata Lis, writer and translator, author of the book Moja ukochana i ja
7:30–8:20 How Should We Write and Talk About Music?
Przemek Gulda, music and arts journalist
Agnieszka Szydłowska, music and arts journalist
9:30–10:20 Women in Music
Hania Rani, artist
Misia Furtak, artist
Agnieszka Kucińska, journalist, host of the podcast Kobiety objaśniają świat
PiaskOFFnica
Every year at OFF we remember about parents with small children and cordially invite them both in front of the stage (be sure to protect their hearing!) and to the relaxation and education zone, traditionally called Piaskoffnica.
Important information for parents:
– children in Piaskoffnica are under care of their child caregivers – you can take a break and have a coffee, but you can't leave them to rush to the concert- there will be a changing table and a food warmer available
– for the slightly older kids – there will be a special menu in the foodcourt
– earphones to protect your hearing you can buy at the Off Market
– Children up to 10 years old enter for free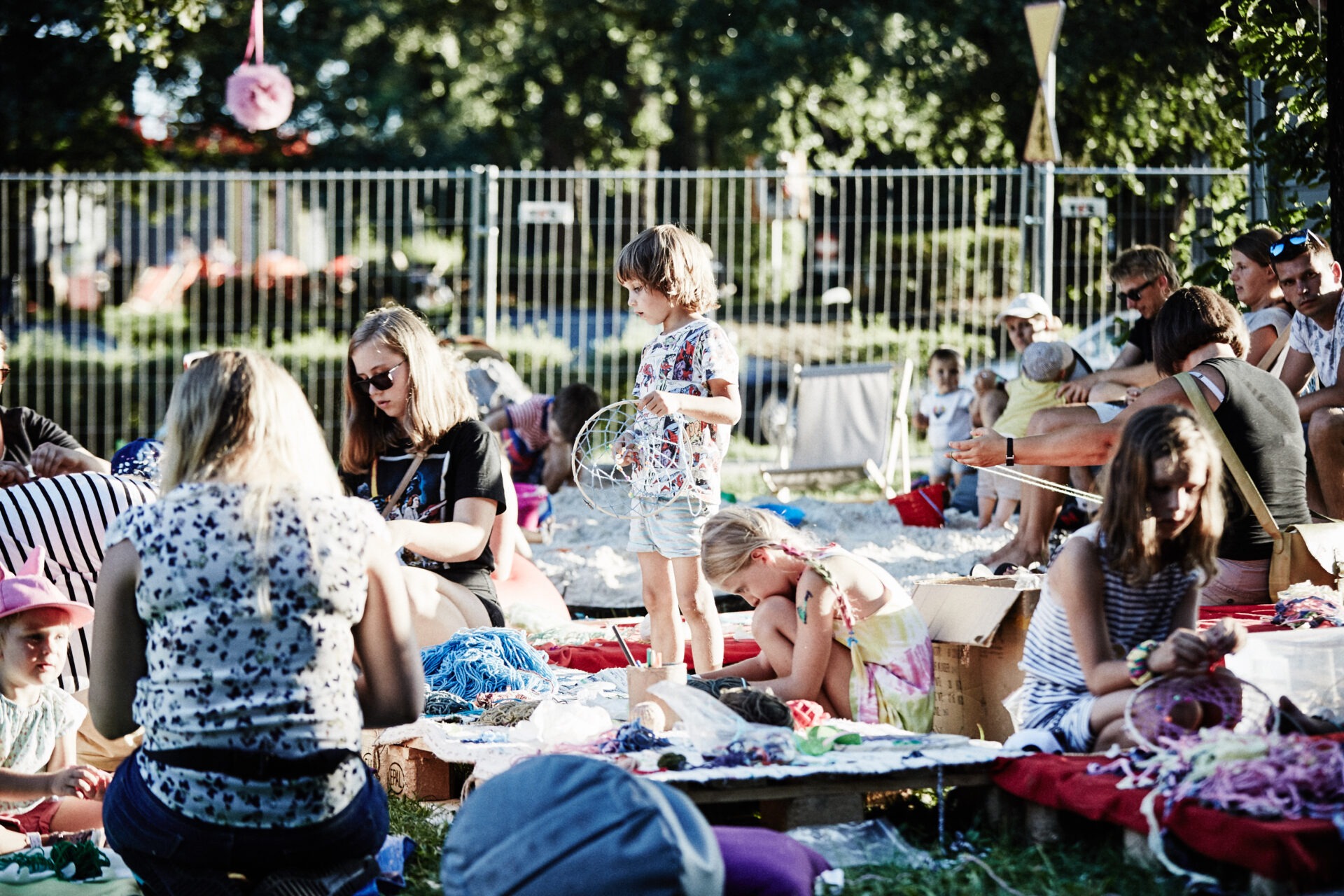 Foodcourt
The OFF Festival foodcourt has been an event in itself for a few years now. It's not about quickly filling up with calories, swallowing absurdly expensive stuff. Our foodcourt is a journey through many continents, a tribute to culinary traditions, but also kitchen experiments – and all of the best quality, usually from organic ingredients, prepared by masters in their profession.